Available Version Mentis 3.0.0 onwards
This article below walks you through the process of managing employee titles. Employee titles are used by users in managing their profile and more importantly by your employment coordinators and you for managing your employment footprint.
Manage Employee Titles
1. Once inside the ELC app, select Employee Titles from the sidebar present under Data.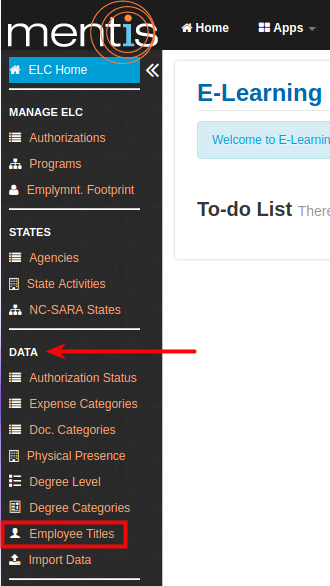 2. To add a new Employee Title, click on the Add button present on the right-hand side.
3. In Create a new Title, you need to add employee title. For e.g. Assistant Professor, Professor, Chief Information Officer, etc.
Note: Employee title is by default marked as verified.
4. Click on Save to save the record. Repeat the process to add additional employee titles.
Edit or Delete Employee Title
1.You can edit or delete a particular Employee title using the edit or delete button present under Actions.
Search for Employee Titles
You can search for an Employee title by using search textbox. This action filters the Employee title to an exact match to your search query.