Step 1 : First step to add research and expertise to your profile is to login into mentis.
Step 2 : Click on "My Profile" present in the drop-down menu of profile name on top right-hand corner of the webpage.
Step 3 : Click on "Add new" present in "Research and Expertise" under "Research". You can rearrange details after you have added details for research and expertise using "Rearrange". After you have completed adding details you can edit or remove using "Edit" button present on right-hand side.
Step 4 : In "New Research and Expertise" you can add details in various sub-steps namely "Research Info", "Description", "Collaborators" and "Visibility". The introduction consist of instructions about using next and accept to save your information. Each sub-step is interconnected by "Next" and "Previous" button.
Step 4.1 : In sub-step "Research Info" you need to add details in fields like "Name", "Expertise type" and "Expertise Level". In "Name" you need to succinctly add title to your expertise. Except for "Name" you need to select "Expertise Type" and 'Expertise Level" from drop-down list.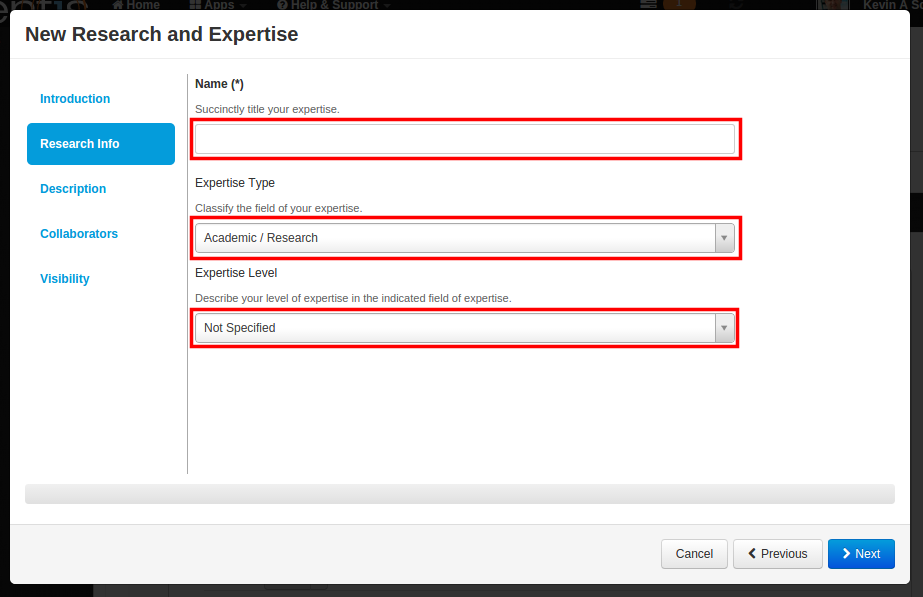 Step 4.2 : In sub-step "Description" you need to add description of 300 word limit of the research or expertise. You can also add keywords to improve your appearance in search results. By clicking on "Suggest Keywords" button it will suggest keywords from your description.
Step 4.3 : In sub-step "Collaborators" you can list people with whom you have collaborated over this expertise.
Step 4.4 : In sub-step "Visibility Controls" you can control the visibility of particular research or expertise by using checkbox "Hide from my public profile".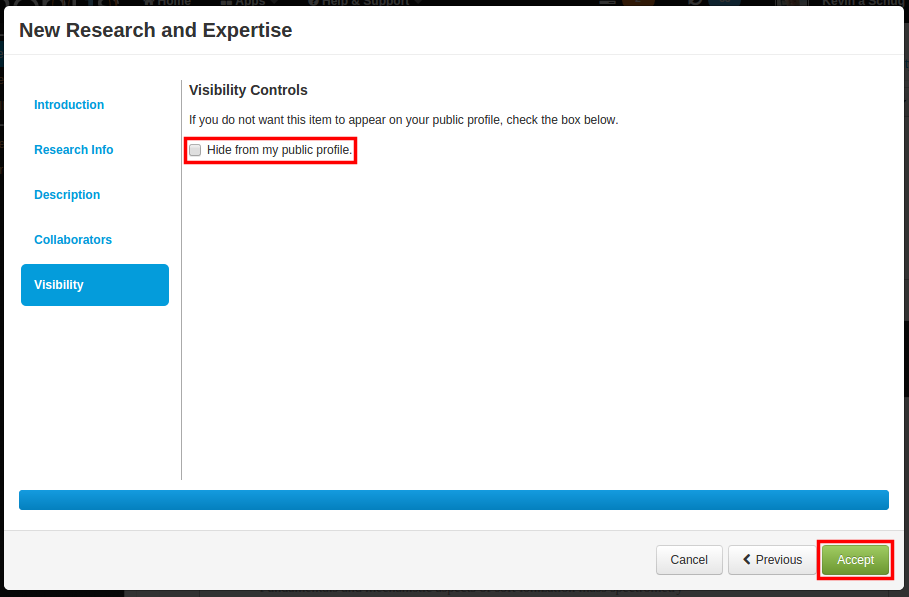 Step 5 : Now click on "Accept". This would be displayed as your research or expertise.