Inknowledge updates the list of agencies on a regular basis so if you have any changes you would like to request please leave them as a comment here or email us at support@inknowledge.com.
Once inside the ELC app, select Agencies present under States from the sidebar.
Viewing state agency
You can review and manage state agency using search options for the state, agency name and tags present under Manage State Agencies.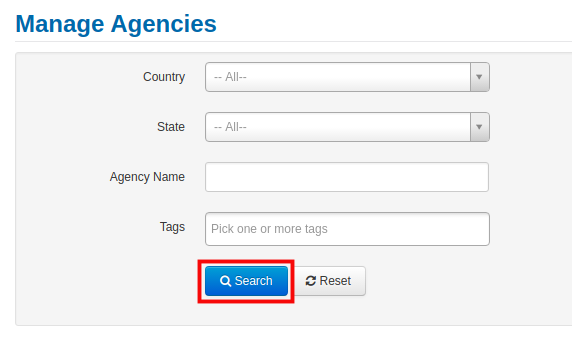 Once you have identified the agency click on View to open up a page with additional details.
Update (2.6.0): You can now directly click on the agency name to open a page with more details about the agency from where you can maintain notes and manage additional contacts for each agency.
Adding notes
1. Add a new note in the text box by clicking on add button.
2. In Add Note, you need to add Title (1) and Note (2). And click on Save.
Update (version 2.6.0): You can also insert a URL into your notes for any agency and it will auto-detect the link and make it clickable while viewing the notes as shown below.
Click here to learn more about how to add/edit Other contacts for state agencies.
Update (2.8.0): Now you can add notes and upload "files" using option for Add Note.
Click here to learn more about how to add or remove notes and files for a state agency.
Adding a new state agency
1. Click on Add button present on the right-hand side.

2. In Add a new state agency you need to add details in fields namely State(1), Agency Name(2), Contact Name(3), Contact Designation(4), Contact Email(5), Link to Agency(6) and Link to Regulations(7). In State, you need to select state name to which the particular agency belongs. You can also mark state agency as verified using appropriate checkbox.
Note: Always use checkbox Verified, so that it would be seen as state agency option in expenditure under State Authorization.
3. Now click on Save. This will be displayed as a state agency.
Editing or removing state agency
You can edit or delete state agency by using View or Delete button present under Actions. By using View button under Actions you can edit a particular state agency record and add agency related notes.
Known issue: There are no stop-checks warning you or stopping you from entering duplicate records. We are working on this issue and will be resolved in a future release.