Editing General Information
You can add or edit your general information from "Edit" present on top right-hand side of the webpage. You can edit your display name, titles, email address and profile picture from this area. For further details about how to add or edit general information, please refer other articles present on the forum.

Categories & Sections
The edit profile page is categorised into various categories (for e.g. About me, Research etc.).
Each category is further subcategorized into multiple sections. For e.g. Administrative Appointments and Other Administrative Activities are sections under the category Administration.
Tip: The categories serve as a table of contents for your profile. To take a quick peek at the sections under a category, simply click on the downward arrow next to the category name. Clicking on the section name will directly let you jump to that section.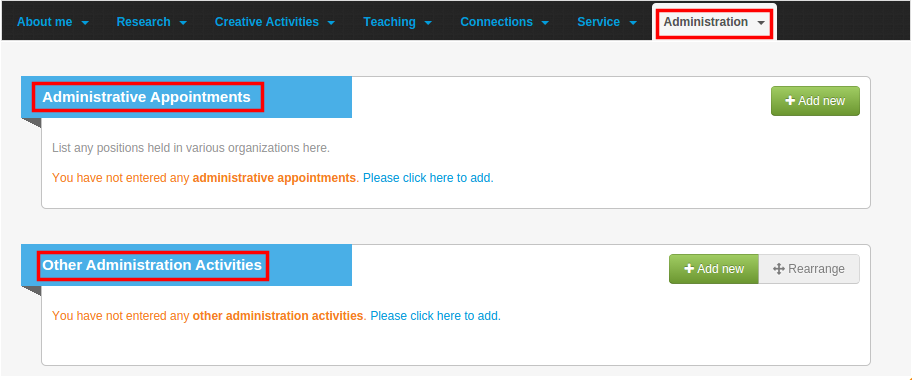 You can edit or update your profile by using "Edit", "Add new" and "Rearrange" buttons present on right-hand side of respective
categories and subcategories, in the "Edit Profile" page.
| | |
| --- | --- |
| | Locate the edit button next to an existing record to begin editing that record. |
| | The Add new button is generally available at the top of the section and can be used to add new records. |
| | The Rearrange button, when available, will let you rearrange the records as per your preference. |
Some section offer advanced editing options like Bulk Import or Import from some existing source. To learn more about those sections, visit our advanced editing topic.