Available Version Mentis 3.0.0 onwards
The article below walks you through the process of adding, editing or removing user according to the plan you are subscribed. While adding a user, you would require a unit of the particular user. So please make sure all the required units are added to Mentis before adding users.
Add User
1. Select Plans from the sidebar present under Manage Account.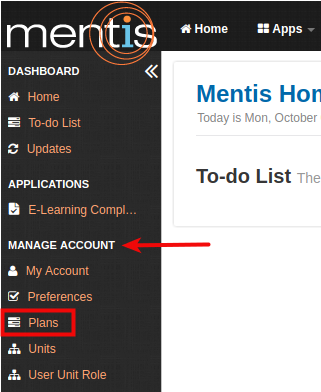 2. You can add users according to your plan using Add button present on the right-hand side.
3. In Create a new User, you need to add Email (1) which is used as Username, First Name (2), Middle Name (3), Last Name (4), Gender (5), Unit (6) and Default role for user (6) from drop-down list of ELC Admin, Employment Coordinator and Program Coordinator.
Note: ELC has pre-built roles that allow for providing different functionality to different users based on the roles they have been assigned. These roles also govern the different menu items that are visible to the user throughout ELC.
4. Click on Save. The user will get created immediately.
Note: After a user is created, an email is sent to the user's registered email address with a temporary password. Using this password the user can login into ELC, reset the password and update his or her profile.
Edit or Delete User
1. You can edit or delete user using Edit or Delete button present on the right-hand side.
Note: Once a user is added, role changes can be done for that user on User Unit Role.
2. Users are not really deleted by marked as inactive. Inactive users do not count towards your user tier but are maintained in the system for maintaining details of any prior activities performed by them.
Tip: Currently program coordinator can be assigned to only one unit. This can be a single unit or a collection of units. For e.g. You can assign a program coordinator to Computer Science department or to College of Engineering. In the former case, the program coordinator will only have access to programs and records for Computer Science department but for the later, they will have access to all the departments under College of Engineering including Computer Science.