Here you can manage all users. You can add, edit and delete a particular user from this admin page.
Note: If your institution is using a process for automatically synchronizing your user information with Mentis, any changes made here will be lost during the next synchronization. Please consult with your system administrator or your organization's IT person for making changes directly in your internal user directory used for synchronization.
Manage Users:
1. Once inside the Admin area, select Users from the sidebar present under Manage Users & Roles.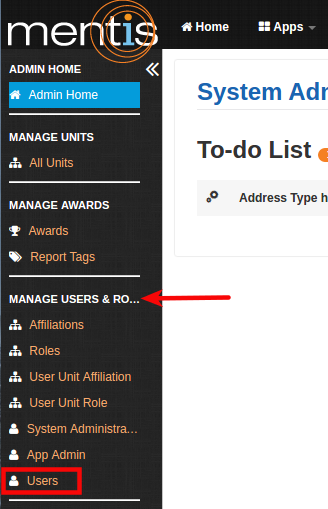 2. All existing users are displayed in a tabular layout over here. To add a new user, click on the Add button present on the right-hand side.

3. In Create a new User, you need to add Ouserid (1), First Name (2), Middle Name (3), Last Name (4), Gender (5) and Status (6) from active, inactive, on leave, retired and other.
Important: Ouserid is a unique id issued to you by your organization. When using federated login, this id is released by your institution to Mentis on successful authentication and is used to match you to your user record in Mentis. It is therefore very important to have this field filled out correctly. Please contact your organization's IT department for help with understanding what should be entered in this field for your users.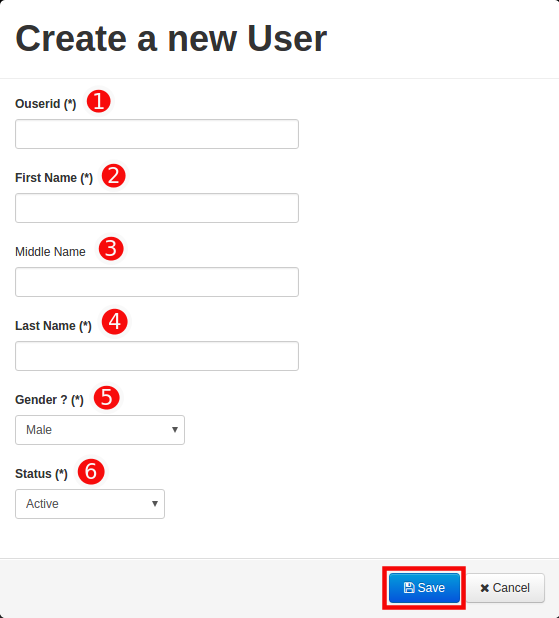 4. Click on Save to save the record. Repeat the process to add additional users.
Note: To add multiple users at once, please contact your Mentis Service Desk at support@inknowledge.com.
5. After creating a user, Admin should create a user unit affiliation for the particular user. The User Unit Affiliation describes the relation of the user with the university. Please refer the article for Managing User's Unit Affiliation.
Important: An affiliation is required for the user creation process to be complete.
6. Optionally, you can also associate the user to a role in Mentis. Please refer the article for Managing User's Role.
Edit or Delete User
1. You can edit or delete a particular user using the edit or delete button present under Actions.

Important: Deleting a user will completely disable their access to the system. Please delete a user only if absolutely necessary.
Search for Users
You can search users by entering your search text in the appropriate text box (ouserid, first name, middle name, last name, gender and status). This action filters the list of users to only the users that are an exact match to your search query.