While a number of data elements can be automatically imported into Mentis during implementation and/or at regular intervals, a number of one-time imports in the system can be managed using the self-service Import Tools feature available to your organizations Admins.

The following is the list of data elements supported by import tools.
Address Type
Affiliation, Award
Award Recipient
Campus Map
Course
Degree Category
Email Type
File Type
Major
Phone Type
Presentation Type
Publication Type
Semester
Service Initiative Type
Service Type
Student Enrollment
Subject
Unit
Unit Type
Note: The system currently only supports .xls and .xlsx. If using any online excel editor to generate an excel file for import, please make sure there are no empty rows before proceeding with the tool.
Accessing Import Data
1. Once inside the Admin, click on Import Data present in the sidebar under Manage Config.
2. In Import Data, select a particular item for example, Student Enrollment from the drop-down list of select an item to import data.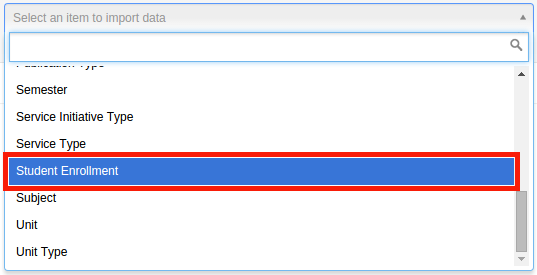 3. Now choose a .xls (Excel) or .xlsx (Microsoft Office Open XML spreadsheet) format file to import data and the Excel or XML spreadsheet must have all the required columns as per Mentis Column Name present in Import Summary.
Note: You can download a predefined template using Download a predefined Template button present on the right-hand side. Also, the file must not be larger than 2 MB. If your file is larger than 2MB please email us at support@inknowledge.com to find alternative methods of importing your data.
4. Now click on Import button. You will get the opportunity to map your data file columns to the mentis columns in the next step.
5. The system auto-detects the headers in your excel file and allows you to customize the columns of data imported using the drop-down list for particular Excel Header Name present under Import Summary.

Please note that if you had downloaded the available data template, the columns are auto-matched for your convenience.
6. Click on Finish.
Errors, if available, are displayed at the end to indicate any duplicate records, entries not found etc. for you to review and attempt again.