version 2.6.0 and up.
Once inside the ELC app, select State Laws present under Resources from the sidebar.
1. Select State Law Type (1) from For Public Out-Of-State Universities, For Private Non-Profit Out-of-State Universities or For SARA-State Universities Membership and State (2).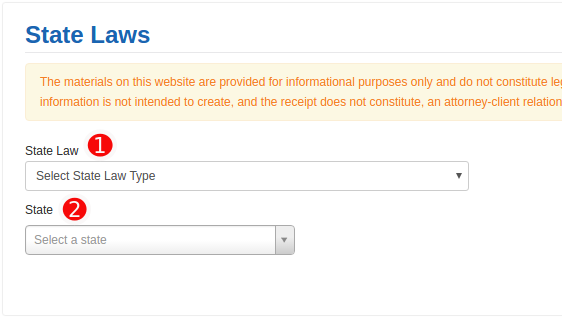 2. After selecting State Law and State the result would be displayed as follows,
Note: The material provided is for informational purpose only and do not constitute legal advice. These materials are intended, but not promised or guaranteed to be current, complete, or up-to-date and should in no way be taken as an indication of future results. Transmission of the information is not intended to create, and the receipt does not constitute, an attorney-client relationship between sender and receiver. You should not act or rely on any information contained without first seeking the advice of an attorney.