Available Version MMT 3.4.4 onwards
Here you can put a note and upload documents and add or remove physical presence for the specific state that applies to all programs offered in that particular state.
Note: The State Notes is accessible only to the ELC Admin and System Admin. Program Coordinator and Employee coordinator cannot access this page.
Manage State Notes
1. Once inside the ELC app, Select State Notes from the sidebar present under States.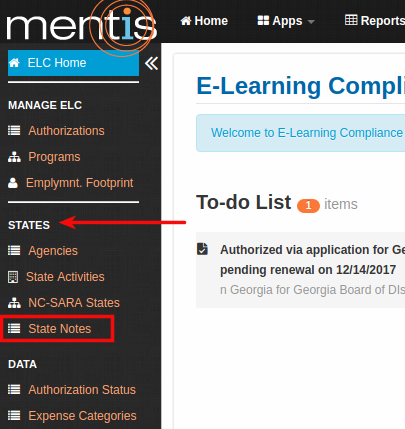 Steps to attach document
1. In Manage State Notes. select the state you want to attach a document and click Attach Document button present under Actions.
2. In add document for the selected state, you need to select document category (1), add document date (2) and attach documents. You can add document category from the sidebar item for Doc. Category present under Data.

3. Click on Save.
Steps to add notes
1. In Manage Notes, click on Add Notes button present under Actions.

2. In Add Notes, you need to add Title (1), Note (2). You can add or remove an attached document from the same link for Attach or Remove Document.
3. Click on Save.
Steps to add a physical presence
1. In Manage States Notes, click on the number present under Physical Presence.
2. In the dialog that opens, you need to
1. Select one or more physical presence types using the appropriate checkbox.
Note: You can also select the top level category if you don't have details of the actual physical presence types applicable to the state. For example, you can select Property in the State by itself and not go into the specifics of whether it is a physical building or a telephone number.
2. Click update.
Removing physical presence type(s) to state notes
The procedure for removing physical presence types is the same as adding except you will uncheck a trigger that has already been added.
Click here for more information on how to add a new physical presence type.
Edit or Remove attached notes and documents
1. You can edit or remove particular notes or documents, by clicking the specific numbers present under Number of Note(s) and Number of Documents.
In Documents, you can sort Document Date, Name and Category, by clicking on particular column header.
Searching state notes
You can search for state notes using the search box for State Notes present at the top.