Version 2.7.0 and up
Program tags can be useful for annotating programs as on-ground, field-placement when the full information for physical presence is not yet available. The rest of this article provides steps on how you can create and add these tags to your programs.
Adding program tags
Once inside the ELC app, select Programs present under Manage ELC from the sidebar.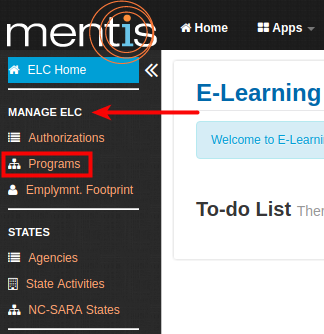 1. Click on Add or remove Tags present on the right-hand side of the particular program under Actions.
2. You need to add new tags or select existing ones and add them using Add button present on the right-hand side. Multiple tags can be added to a single program in this step.
Removing program tags
1.You can remove a particular program tag by using Delete button present under Actions.
Note: If a particular tag is deleted from all the programs it was added to, it is automatically removed from the system. To add it back again, associate it with a program.